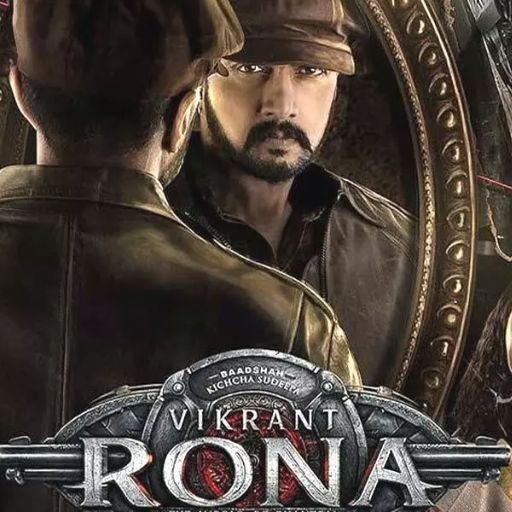 Vikrant Rona Movie 2022 OTT Release date in India:
A New Drama/Thriller Sandalwood movie named Vikrant Rona starring Sudeep, Nirup Bhandari, Neetha Ashok directed by Anup Bhandari is going to be released in cinemas on 28 July 2022. Here You can Find the Vikrant Rona movie digital OTT Streaming dates and Vikrant Rona Movie OTT release date, Vikrant Rona OTT Platform Name.
Vikrant Rona Movie got the U/A Censored certificate from CBFC (Central Board of Film Certificate) in India. The Sandalwood-based Vikrant Rona Movie is yet to be released in Kannada, Tamil, Telugu, Malayalam, and Hindi Language in India.
Vikrant Rona 2022 Movie OTT Details:
| | |
| --- | --- |
| Movie Name | Vikrant Rona |
| Theatrical release date | 28 July 2022 |
| Streaming Partner | Zee5 Premium |
| OTT Release Date | September 2022 |
| Director | Anup Bhandari |
| Language | Kannada, Tamil, Telugu, Malayalam, Hindi |
| Starring | Sudeep, Nirup Bhandari, Neetha Ashok |
| Film Industry | Sandalwood |
| CBFC | U/A |
| Genre | Drama/Thriller |
| Box Office | 95 crores INR |
On 28 July 2022, Vikrant Rona Film has been released in all Movie Theatres in India and got U/A CBFC Censored Certificate. B. Ajaneesh Loknath composed the music and background score of the Movie.
The Cinematography was done by William David and Ashik Kusugolli was the editor of the movie.
Cast and Character
Kiccha Sudeep as Inspector Vikrant Rona
Nirup Bhandari as Raghava/Sanjeev "Sanju" Gambhira
Neetha Ashok as Aparna Ballal aka Panna
Jacqueline Fernandez as Racquel D'Coasta / Gadang Rakkamma
Ravishankar Gowda as Vishwanath Ballal
Madhusudan Rao as Janardhan Gambhira
V. Priya as Shantha "Shaku" Gambhira
Vasuki Vaibhav as Baalakrishna "Baalu"
Siddu Moolimani as Mohanchandra "Munna" Ballal
Ramm Bogadi as Mahabala
Chitkala Biradar as Baby Ballal
Samhitha as Geethanjali "Guddi" Rona, Vikrant Rona's daughter
Ramesh Kukkuvalli as Eknath Gambhira
Vajradheer Jain as Madhava / Lawrence Pinto
Dushyant Rai as Moose Kunni
Karthik Rao Kordale as Fakruddin aka Pakru
Ranjan Shetty as Rudramani Bhavikatte
Vishwanatha KC as Manche Gowda
Yogish Shetty as Nittoni, Madhava and Raghava's father
Achinthya Puranik as Young Sanju
Anup Bhandari as Old Photographer (cameo)
Milana Nagaraj as Renu Rona, Vikrant's wife (cameo)
Vikrant Rona Movie OTT Platform Name
Zee5 Premium has reserved the Vikrant Rona Movie OTT Rights officially in India. The official updates will be published on the Zee5 Premium social media accounts soon!
Vikrant Rona Movie Satellite Rights:
After Theatrical Release, Every fans is eagerly waiting to watch Vikrant Rona movie on Television in their home. Zee5 has officially got the satellite rights to stream the movie on their channels on Television. Before Satelite release, they will make huge promotions for this film to catch the audience.
Vikrant Rona IMDb Ratings:
The Internet Movie Database (IMDb) has given ratings of 8.7 out of 10 for Vikrant Rona on their website. Every movie that will get success on the big screen is based upon audience review and Ratings.
Vikrant Rona OTT Release Date:
The Main Starring Sudeep, Nirup Bhandari, Neetha Ashok, Movie Vikrant Rona was released on Theatrical on 28 July 2022. We are expecting the Digital OTT release in Zee5 Premium on September 2022.
The Lahori Music and T series got the music rights and soundtrack of the film in India.
How to Watch Vikrant Rona Online on Zee5 Premium
First, go to the official streaming Platform on your mobile/Laptop
Then, Please login with your user name and password to watch Vikrant Rona in online
Search the Vikrant Rona Movie name in the search field/bar
Click Watch Now button on your screen and select your language if required
To enable English subtitles, Please turn on your watching screen
Enjoy the movie with 4k resolutions Print
Disclaimer: This website provides information about movies. It does not promote or provide download links for any movies. The information on this website is for informational purposes only and should not be construed as legal advice.
Vikrant Rona Movie Faq Questions
You can watch Vikrant Rona only on Zee5 Premium Platform.
The Vikrant Rona will officialy streaming/yet to stream on Zee5 Premium.
Vikrant Rona is released on 28 July 2022.
Sudeep, Nirup Bhandari, Neetha Ashok.
Vikrant Rona is released on Kannada, Tamil, Telugu, Malayalam, Hindi.
B. Ajaneesh Loknath is the music director of Vikrant Rona .
Vikrant Rona Movie is directed by Anup Bhandari.