Navigation
---
Vishal Movie List in 2023
Last updated on:
February 4th, 2023 at 12:59 pm
Edited by:
KIRUTHIKA
---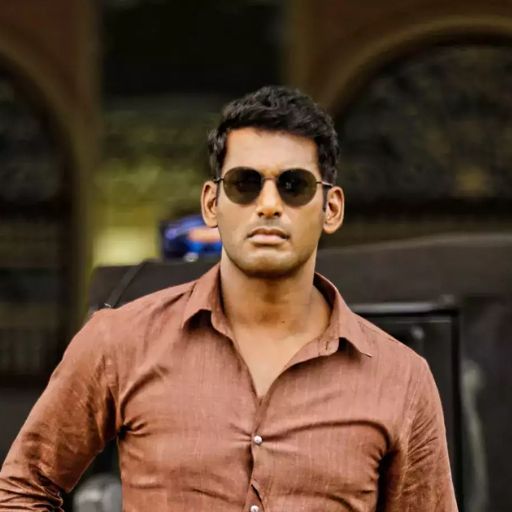 Actor Vishal: In Kollywood Industry, Vishal Krishna Reddy familiarly known as Vishal (born 29 August 1977), Chennai. He is an actor and producer who works in Tamil filmography. He produces films under his own production company, Vishal Film Factory.
His parents are GK Reddy ( businessman and film producer) and his mother Janaki Devi. Vishal pursued his degree in visual communications from Loyola College, Chennai. He has siblings – elder brother Vikram Krishna ( actor and producer ) who also produced Vishal's films and Aishwarya ( Sister).
Vishal Biography, Age, Family, Height, weight
In his career, Vishal worked as an assistant director in Flim Industry for Arjun sarja. Then he made a breakthrough role in the movie Chellamae (2004). In Kollywood Industry, within 12 years he acted more than 20 films. He was elected as President of the Tamil Film Producers Council election, which was held on 2 April 2017.
| | |
| --- | --- |
| Name | Vishal Krishna Reddy |
| Nick Name | Vishal |
| Born | 29 August 1977 |
| Vocation | Actor , Producer |
| Institute | Loyola College, Chennai |
| Status | Unmarried |
| Parents | GK Reddy ( Producer), Janaki Devi |
| Spouse | — |
| Children | — |
| First Flim | Chellamae |
Vishal All Films Hits and Flops with Verdict List
| | | | |
| --- | --- | --- | --- |
| S.NO | Movie Name | Release Year | Verdict |
| 1 | Jadikketha Moodi [As Child artist] | 1989 | No Verdict Found! |
| 2 | Chellamae | 2004 | Hit |
| 3 | Sandakozhi | 2005 | Blockbuster |
| 4 | Dishyum [Cameo appearance] | 2005 | Hit |
| 5 | Thimiru | 2006 | Super Hit |
| 6 | Sivappathigaram | 2006 | Average |
| 7 | Thaamirabharani | 2007 | Hit |
| 8 | Malaikottai | 2007 | Hit |
| 9 | Satyam | 2008 | Average |
| 10 | Thoranai | 2009 | Average |
| 11 | Pistha [Telugu film] | 2009 | No Verdict Found! |
| 12 | Theeradha Vilaiyattu Pillai | 2010 | Hit |
| 13 | Avan Ivan | 2011 | Hit |
| 14 | Vedi | 2011 | Flop |
| 15 | Samar | 2013 | Above Average |
| 16 | Theeya Velai Seiyyanum Kumaru [Cameo appearance] | 2013 | Hit |
| 17 | Pattathu Yaanai | 2013 | Average |
| 18 | Pandiya Naadu [As actor and producer] | 2013 | Super Hit |
| 19 | Naan Sigappu Manithan [As actor and producer] | 2014 | Super Hit |
| 20 | Kathai Thiraikathai Vasanam Iyakkam [Cameo appearance] | 2014 | Above Average |
| 21 | Poojai [As actor and producer] | 2014 | Hit |
| 22 | Aambala [As actor and producer] | 2015 | Average |
| 23 | Vasuvum Saravananum Onna Padichavanga [Cameo appearance] | 2015 | Average |
| 24 | Paayum Puli | 2015 | Average |
| 25 | Kathakali [As actor and producer] | 2016 | Average |
| 26 | Marudhu | 2016 | Above Average |
| 27 | Kaththi Sandai | 2016 | Flop |
| 28 | Thupparivaalan | 2017 | Super Hit |
| 29 | Villain [Malayalam film] | 2017 | Average |
| 30 | Irumbu Thirai [As actor and producer] | 2018 | Blockbuster |
| 31 | Sandakozhi 2 | 2018 | Above Average |
| 32 | Ayogya | 2019 | Above Average |
| 33 | Action | 2019 | Flop |
| 34 | Chakra | 2021 | Below Average |
| 35 | Enemy | 2021 | Above Average |
| 36 | Veerame Vaagai Soodum [As actor and producer] | 2022 | Average |
| 37 | Laththi | 2022 | Not Yet Released! |
| 38 | Thupparivaalan 2 | 2022 | Not Yet Released! |
| 39 | Mark Antony | 2023 | Not Yet Released! |