Navigation
---
Rajinikanth Movie List in 2023
Last updated on:
February 4th, 2023 at 12:15 pm
Edited by:
KIRUTHIKA
---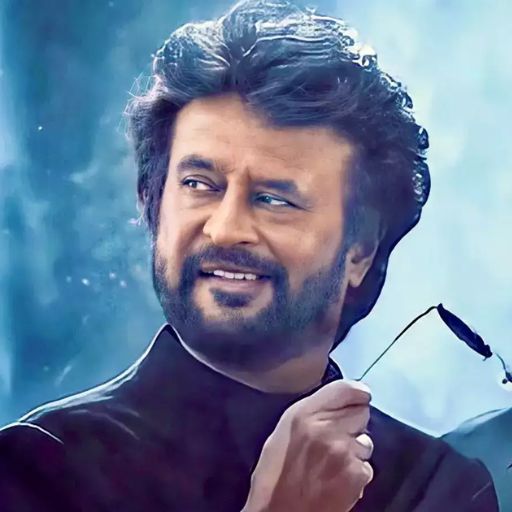 Rajinikanth Hits and Flops Film List
Actor Rajinikanth:In Kollywood Industry, Rajinikanth's brand name was Shivaji Rao Gaekwad, born on 12 December 1950 to Ramoji Rao Gaekwad (police constable) and Jijabai (mother)in a Marathi family in Bangalore. He was an actor, producer, Screenplay writer, and philanthropist. He was famed as Superstar in the Kollywood industry.
He did his schooling in Aacharya Paathashala in Bangalore. He pursued Diploma in acting from the M.G.R. Film and Television Institute of Tamil Nadu. He had a sister ( Aswanth Balubai )and brothers ( Satyanarayana Roa and Nageshwara Roa ).
RajiniKanth Biography, Age, Family, Height, weight
| | |
| --- | --- |
| Name | Shivaji Rao Gaekwad |
| Nick Name | Rajinikanth, Super star, Thalaivar |
| Born | 12 December 1950 |
| Vocation | actor, producer, Screenplay writer and philanthropist |
| Weight | 75 kg |
| Status | Married |
| Parents | Ramoji Rao Gaekwad (police constable) and jijabai |
| Spouse | latha Rangachari |
| Children | 2 |
| First Film | Apoorva Raagangal |
In his career, He had done many odd Jobs like Coolie, etc. Rajinikanth Began His film Career in Tamil Film Apoorva Raagangal (1975) directed by k. Balachander. In his Filmography career, Rajinikanth has acted in 163 films. He was the Top and Highest Paid Actor in the Indian Film Industry. He was established as a Commercial Entertainer. He has won many awards, including four Tamil Nadu State Film Best Actor Awards and a Filmfare Best Tamil Actor Award.
RajiniKanth Hit and Flop film list with Ratings
| SI.No | Movie Name | Language | Release Year | Ratings |
| --- | --- | --- | --- | --- |
| 1 | Apoorva Raagangal | Tamil | 1975 | Hit |
| 2 | Moondru Mudichu | Tamil | 1976 | Hit |
| 3 | Avargal | Tamil | 1977 | Hit |
| 4 | Kavikkuyil | Tamil | 1977 | Hit |
| 5 | Raghupathi Raghavan Rajaram | Tamil | 1977 | Flop |
| 6 | Bhuvana Oru Kelvi Kuri | Tamil | 1977 | Above Average |
| 7 | 16 Vayathinile | Tamil | 1977 | Super Hit |
| 8 | Aadu Puli Attam | Tamil | 1977 | Flop |
| 9 | Gaayathri | Tamil | 1977 | Hit |
| 10 | Aaru Pushpangal | Tamil | 1977 | Flop |
| 11 | Shankar Salim Simon | Tamil | 1978 | Above Average |
| 12 | Aayiram Jenmangal | Tamil | 1978 | Hit |
| 13 | Mangudi Minor | Tamil | 1978 | Flop |
| 14 | Bairavi | Tamil | 1978 | Super Hit |
| 15 | Ilamai Oonjal Aadukirathu | Tamil | 1978 | Flop |
| 16 | Sadhurangam | Tamil | 1978 | Flop |
| 17 | Vanakkatukuriya Kathaliye | Tamil | 1978 | Flop |
| 18 | Mullum Malarum | Tamil | 1978 | Hit |
| 19 | Iraivan Kodutha Varam | Tamil | 1978 | Flop |
| 20 | Thappu Thalangal | Tamil | 1978 | Flop |
| 21 | Aval Appadithan | Tamil | 1978 | Flop |
| 22 | Thai Meethu Sathiyam | Tamil | 1978 | Above Average |
| 23 | En Kelvikku Enna Bathil | Tamil | 1978 | Flop |
| 24 | Paavathin Sambalam | Tamil | 1978 | Flop |
| 25 | Justice Gopinath | Tamil | 1978 | Average |
| 26 | Priya | Tamil | 1978 | Super Hit |
| 27 | Kuppathu Raja | Tamil | 1979 | Average |
| 28 | Allaudinaum Arputha Vilakkum | Tamil | 1979 | Average |
| 29 | Ninaithale Inikkum | Tamil | 1979 | Super Hit |
| 30 | Thaayillamal Naan Illai | Tamil | 1979 | Hit |
| 31 | Dharma Yuddham | Tamil | 1979 | Hit |
| 32 | Naan Vazhavaippen | Tamil | 1979 | Hit |
| 33 | Aarilirunthu Arubathu Varai | Tamil | 1979 | Super Hit |
| 34 | Annai Oru Aalayam | Tamil | 1979 | Hit |
| 35 | Billa | Tamil | 1980 | Blockbuster |
| 36 | Natchathiram | Tamil | 1980 | Flop |
| 37 | Anbukku Naan Adimai | Tamil | 1980 | Hit |
| 38 | Kaali | Tamil | 1980 | Average |
| 39 | Naan Potta Savaal | Tamil | 1980 | Flop |
| 40 | Johnny | Tamil | 1980 | Below Average |
| 41 | Ellam Un Kairasi | Tamil | 1980 | Flop |
| 42 | Polladhavan | Tamil | 1980 | Hit |
| 43 | Murattu Kaalai | Tamil | 1980 | Hit |
| 44 | Thee | Tamil | 1981 | Flop |
| 45 | Kazhugu | Tamil | 1981 | Above Average |
| 46 | Thillu Mullu | Tamil | 1981 | Hit |
| 47 | Garjanai | Tamil | 1981 | Flop |
| 48 | Netrikkan | Tamil | 1981 | Average |
| 49 | Ranuva Veeran | Tamil | 1981 | Flop |
| 50 | Pokkiri Raja | Tamil | 1982 | Blockbuster |
| 51 | Thanikattu Raja | Tamil | 1982 | Flop |
| 52 | Ranga | Tamil | 1982 | Flop |
| 53 | Puthukavithai | Tamil | 1982 | Hit |
| 54 | Nandri Meendum Varuga | Tamil | 1982 | Average |
| 55 | Enkeyo Ketta Kural | Tamil | 1982 | Average |
| 56 | Moondru Mugam | Tamil | 1982 | Blockbuster |
| 57 | Agni Sakshi | Tamil | 1982 | Above Average |
| 58 | Paayum Puli | Tamil | 1983 | Blockbuster |
| 59 | Uruvangal Maralam | Tamil | 1983 | Average |
| 60 | Thudikkum Karangal | Tamil | 1983 | Flop |
| 61 | Thai Veedu | Tamil | 1983 | Flop |
| 62 | Sivappu Sooriyan | Tamil | 1983 | Flop |
| 63 | Adutha Varisu | Tamil | 1983 | Flop |
| 64 | Thanga Magan | Tamil | 1983 | Super Hit |
| 65 | Naan Mahan Alla | Tamil | 1984 | Hit |
| 66 | Thambikku Entha Ooru | Tamil | 1984 | Hit |
| 67 | Kai Kodukkum Kai | Tamil | 1984 | Flop |
| 68 | Anbulla Rajinikanth | Tamil | 1984 | Flop |
| 69 | Nallavanukku Nallavan | Tamil | 1984 | Blockbuster |
| 70 | Naan Sigappu Manithan | Tamil | 1985 | Hit |
| 71 | Un Kannil Neer Vazhindal | Tamil | 1985 | Flop |
| 72 | Sri Raghavendrar | Tamil | 1985 | Disaster |
| 73 | Yaar? | Tamil | 1985 | Disaster |
| 74 | Padikkadavan | Tamil | 1985 | Super Hit |
| 75 | Mr. Bharath | Tamil | 1986 | Average |
| 76 | Naan Adimai Illai | Tamil | 1986 | Flop |
| 77 | Viduthalai | Tamil | 1986 | Flop |
| 78 | Kodai Mazhai | Tamil | 1986 | Flop |
| 79 | Maaveeran | Tamil | 1986 | Flop |
| 80 | Velaikaran | Tamil | 1987 | Super Hit |
| 81 | Oorkavalan | Tamil | 1987 | Average |
| 82 | Manithan | Tamil | 1987 | Super Hit |
| 83 | Manathil Urudhi Vendum | Tamil | 1987 | Flop |
| 84 | Guru Sishyan | Tamil | 1988 | Super Hit |
| 85 | Dharmathin Thalaivan | Tamil | 1988 | Flop |
| 86 | Kodi Parakkuthu | Tamil | 1988 | Flop |
| 87 | Rajadhi Raja | Tamil | 1989 | Super Hit |
| 88 | Siva | Tamil | 1989 | Flop |
| 89 | Raja Chinna Roja | Tamil | 1989 | Super Hit |
| 90 | Mappillai | Tamil | 1989 | Blockbuster |
| 91 | Panakkaran | Tamil | 1990 | Super Hit |
| 92 | Periya Idathu Pillai | Tamil | 1990 | Flop |
| 93 | Athisaya Piravi | Tamil | 1990 | Hit |
| 94 | Dharma Durai | Tamil | 1991 | Blockbuster |
| 95 | Nattukku Oru Nallavan | Tamil | 1991 | Flop |
| 96 | Thalapathi | Tamil | 1991 | Blockbuster |
| 97 | Mannan | Tamil | 1992 | Super Hit |
| 98 | Annaamalai | Tamil | 1992 | Blockbuster |
| 99 | Pandian | Tamil | 1992 | Average |
| 100 | Yajaman | Tamil | 1993 | Super Hit |
| 101 | Uzhaippali | Tamil | 1993 | Hit |
| 102 | Valli | Tamil | 1993 | Flop |
| 103 | Veera | Tamil | 1994 | Super Hit |
| 104 | Baashha | Tamil | 1995 | All Time Blockbuster! |
| 105 | Muthu | Tamil | 1995 | Blockbuster |
| 106 | Arunachalam | Tamil | 1997 | Super Hit |
| 107 | Padayappa | Tamil | 1999 | Blockbuster |
| 108 | Baba | Tamil | 2002 | Flop |
| 109 | Chandramukhi | Tamil | 2005 | Blockbuster |
| 110 | Sivaji: The Boss | Tamil | 2007 | Blockbuster |
| 111 | Kuselan | Tamil | 2008 | Below Average |
| 112 | Enthiran | Tamil | 2010 | All Time Blockbuster! |
| 113 | Kochadaiiyaan | Tamil | 2014 | Flop |
| 114 | Lingaa | Tamil | 2014 | Average |
| 115 | Kabali | Tamil | 2016 | Blockbuster |
| 116 | Cinema Veeran | Tamil | 2017 | Documentary film – Hotstar release! |
| 117 | Kaala | Tamil | 2018 | Above Average |
| 118 | 2.0 | Tamil | 2018 | All Time Blockbuster! |
| 119 | Petta | Tamil | 2019 | Blockbuster |
| 120 | Darbar | Tamil | 2020 | Hit |
| 121 | Annaatthe | Tamil | 2021 | Yet to Released |
| 122 | Allauddinum Albhutha Vilakkum | Malayalam | 1979 | No Ratings Found |
| 123 | Garjanam | Malayalam | 1981 | No Ratings Found |
| 124 | Andhaa Kaanoon | Hindi | 1983 | No Ratings Found |
| 125 | Jeet Hamaari | Hindi | 1983 | No Ratings Found |
| 126 | Meri Adalat | Hindi | 1984 | No Ratings Found |
| 127 | Gangvaa | Hindi | 1984 | No Ratings Found |
| 128 | John Jani Janardhan | Hindi | 1984 | Hit |
| 129 | Mahaguru | Hindi | 1985 | No Ratings Found |
| 130 | Wafadaar | Hindi | 1985 | No Ratings Found |
| 131 | Geraftaar | Hindi | 1985 | Super Hit |
| 132 | Bewafai | Hindi | 1985 | Super Hit |
| 133 | Bhagwaan Dada | Hindi | 1986 | Hit |
| 134 | Asli Naqli | Hindi | 1986 | Hit |
| 135 | Dosti Dushmani | Hindi | 1986 | Semi Hit |
| 136 | Daku Hasina | Hindi | 1987 | No Ratings Found |
| 137 | Insaaf Kaun Karega | Hindi | 1987 | Semi Hit |
| 138 | Uttar Dakshin | Hindi | 1987 | Flop |
| 139 | Tamacha | Hindi | 1988 | Semi Hit |
| 140 | Gair Kaanooni [Special appearance] | Hindi | 1989 | Hit |
| 141 | Bhrashtachar [Special appearance] | Hindi | 1989 | Flop |
| 142 | ChaalBaaz | Hindi | 1989 | Hit |
| 143 | Hum | Hindi | 1991 | Blockbuster – 2nd Highest-grossing Indian Film Of 1991 At The Box Office! |
| 144 | Farishtay | Hindi | 1991 | Hit |
| 145 | Khoon Ka Karz | Hindi | 1991 | Average |
| 146 | Phool Bane Angaray | Hindi | 1991 | Average |
| 147 | Shanti Kranti | Hindi | 1991 | Below Average |
| 148 | Tyagi | Hindi | 1992 | Average |
| 149 | Insaniyat Ke Devta | Hindi | 1993 | Average |
| 150 | Aatank Hi Aatank | Hindi | 1995 | Semi Hit |
| 151 | Bulandi | Hindi | 2000 | Disaster |
| 152 | Enthiran (Hindi Version) | Hindi | 2010 | Super Hit |
| 153 | 2.0 (Hindi Version) | Hindi | 2018 | Super Hit |
| 154 | Katha Sangama | Kannada | 1976 | No Ratings Found |
| 155 | Baalu Jenu | Kannada | 1976 | No Ratings Found |
| 156 | Ondu Premada Kathe | Kannada | 1977 | No Ratings Found |
| 157 | Sahodarara Savaal | Kannada | 1977 | No Ratings Found |
| 158 | Kumkuma Rakshe | Kannada | 1977 | No Ratings Found |
| 159 | Galate Samsara | Kannada | 1977 | No Ratings Found |
| 160 | Kiladi Kittu | Kannada | 1978 | No Ratings Found |
| 161 | Maathu Tappada Maga | Kannada | 1978 | No Ratings Found |
| 162 | Thappida Thala | Kannada | 1978 | No Ratings Found |
| 163 | Priya | Kannada | 1978 | No Ratings Found |
| 164 | Garjane | Kannada | 1981 | No Ratings Found |
| 165 | Anthuleni Katha | Telugu | 1976 | No Ratings Found |
| 166 | Chilakamma Cheppindi | Telugu | 1977 | No Ratings Found |
| 167 | Tholireyi Gadichindi | Telugu | 1977 | No Ratings Found |
| 168 | Aame Katha | Telugu | 1977 | No Ratings Found |
| 169 | Annadammula Savaal | Telugu | 1978 | No Ratings Found |
| 170 | Vayasu Pilichindi | Telugu | 1978 | No Ratings Found |
| 171 | Iddaru Asadhyule | Telugu | 1979 | No Ratings Found |
| 172 | Andamaina Anubhavam | Telugu | 1979 | No Ratings Found |
| 173 | Tiger | Telugu | 1979 | No Ratings Found |
| 174 | Amma Evarikkaina Amma | Telugu | 1979 | No Ratings Found |
| 175 | Ram Robert Rahim | Telugu | 1980 | No Ratings Found |
| 176 | Kaali | Telugu | 1980 | No Ratings Found |
| 177 | Mayadari Krishnudu | Telugu | 1980 | No Ratings Found |
| 178 | Idhe Naa Savaal | Telugu | 1984 | No Ratings Found |
| 179 | Nyayam Meere Cheppali | Telugu | 1985 | No Ratings Found |
| 180 | Jeevana Poratam | Telugu | 1986 | No Ratings Found |
| 181 | Pedarayudu | Telugu | 1995 | No Ratings Found |
| 182 | Kuselan | Telugu | 2008 | Below Average |
| 183 | Kathanayakudu | Telugu | 2008 | Flop |
| 184 | Enthiran (Telugu Version) | Telugu | 2010 | Super Hit |
| 185 | Lingaa (Telugu Version) | Telugu | 2014 | Average |
| 186 | Kabali (Telugu Version) | Telugu | 2016 | Flop |
| 187 | Kaala (Telugu Version) | Telugu | 2018 | Disaster |
| 188 | 2.0 (Telugu Version) | Telugu | 2018 | Above Average |
| 189 | Petta (Telugu Version) | Telugu | 2019 | Average |
| 190 | Darbar (Telugu Version) | Telugu | 2020 | Flop |
| 191 | Bhagya Debata | Bengali | 1995 | No Ratings Found |
| 192 | Bloodstone | English | 1988 | No Ratings Found |
| 193 | Jailer | Tamil | 2023 | Not yet released! |